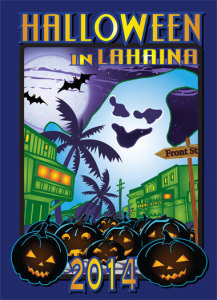 Will you be on Maui this Halloween? If so, we hope to see you down on Front Street! There will be tons of spooky and festive parties all over the island and it may be tough to decide on what to do with your friends or family. Let us make it an easy choice for you: The action is on Front Street in Lahaina! Lahaina is renowned not only for its superb weather and beaches, but also for its annual Halloween parade and block party! You can be sure that this year (and every year), Halloween In Lahaina will not disappoint!
There will be all sorts of entertainment happening on Halloween this year, but those who want to dance know to go to Banyan Tree Park where Chris Serna will be manning the DJ booth! This experienced Maui wedding DJ never ceases to amaze his guests with his spirit of Aloha, pumping beats, and stunning light shows. Be sure you make your way down to the Banyan Tree to enjoy the Chris Serna experience this Halloween!
Every year, Lahaina locals (or kama'aina) and visitors alike strive to create the most memorable and fun Halloween experience for all who attend. With kid-friendly activities such as the daytime Keiki Costume Parade and trick-or-treating, it's sure to be a great time for all. We hope to see you all on Front Street with DJ Chris Serna to celebrate a SCARY good time this year!